Unless you are living under a rock, you already know there's global inflation. Prices of goods are increasing at staggering rates and the dollar isn't worth as much as it did just a few years ago. But what does a recession mean to the average person?
It means everything will be more expensive. Remember that things are already expensive due to global inflation but with a recession, prices will only climb up. The labor market will also be affected and interest rates will be higher. 
Interior design has a huge impact on our lives. Our home is our safe space, our refuge from the world and the state of our space is not just about aesthetics. It has a big effect on our mental health. 
It's no secret that interior decoration is potentially expensive especially when you are hiring professionals. And this makes interior design a big investment for many people. But in a world riddled with inflation and recession, many people can't afford to spend big on interior decoration. If you are in such a situation, there's nothing to worry about. You'll learn how to beautify your space on a budget whilst adding value to the property. 
Below, we'll discuss some cost-effective decorating tips in a recession. Here we go. 
Get Rid of Clutter
Clutter is never attractive and you only need to get rid of the clutter in your home to know the incredible difference it can make to your interior design. And this is without doing 'extreme decluttering'. The thing about clutter is that they are attention-grabbing. They are what anyone who enters a room can focus on. 
A cluttered room is a room that has no style or decor. Even if there's the decor in place, the clutter overshadows it. No one can see it. So why bother decorating a room if you aren't going to keep things organized? 
Perhaps the most cost-effective decorating tip is to declutter a room. The result is instantaneous as there appears to be more light in a room and the interior decor is allowed to shine. 
Refurbish Old Furniture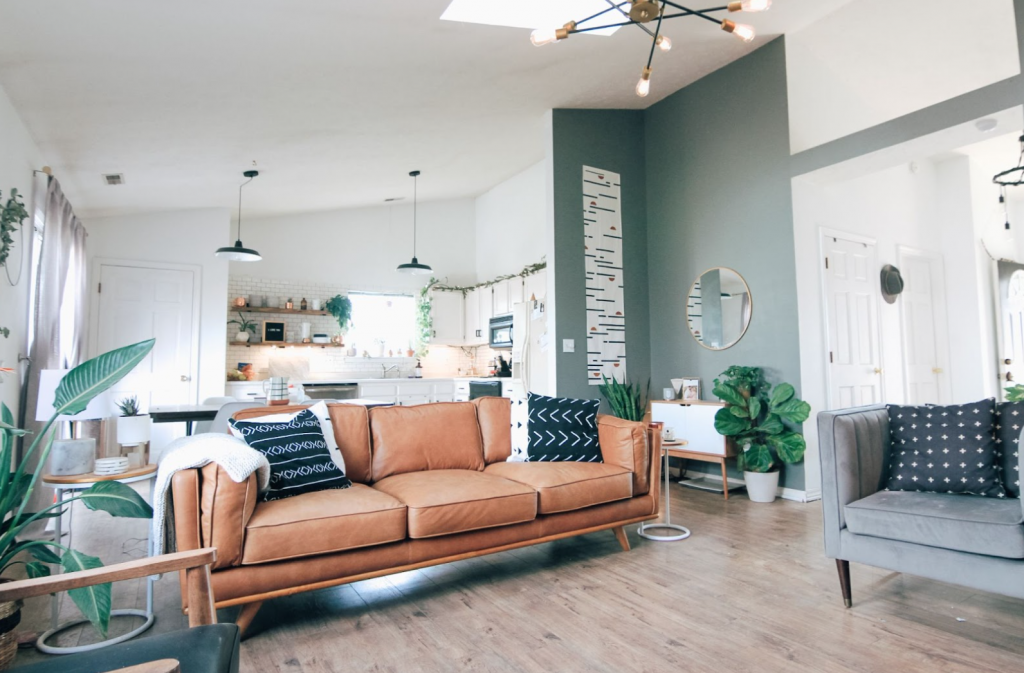 It's not always a bad idea to give people second chances after a conflict, right? This also applies to your old furniture. New furniture doesn't come cheap and the more affordable ones on the market aren't usually durable enough. 
If you have old furniture that's not on its last legs yet, then it might be more cost-effective to refurbish them than invest in new pieces. Sometimes, all you need to do is to change the upholstery or the finishing. And you'll be happy with yourself when you see new life injected in your old furniture. 
Experiment With Lighting
Gone are the days when a room has a single source of light for the sole purposes of illumination. Nowadays, lighting fixtures have evolved to become an important piece of the interior decoration puzzle. 
The type of lighting installed in a room can affect or even dictate your perception of the space. Metal accents, pendant lights, recessed lights, and track lights are some lighting options you can use to increase the aesthetics of your home. If you are concerned about the power bill, go for LED lights that are designed to be energy-efficient.
There Are Several Affordable Wall Treatments
The thing about wall finishes is that there are several wonderful and customizable options. One of the most ancient, affordable, and effective wall treatments is painting. A fresh coat of paint can do wonders for a room. The color you choose has an overall impact on your decoration and the type of atmosphere you are after will affect your color of choice.
Removable wallpapers and decals are other inexpensive wall treatments that can produce stunning effects. You can bring out the artist in you with decals and create what will essentially be 'a work of art'.
Consider Indoor Plants
You never know, indoor plants may be a missing piece in your interior design decor. The best thing about plants is that they can fit into any room, big or small. It's all about selecting the right plant. Also, there are several low maintenance plants so you don't have to worry about the effort needed to maintain the plants. 
The planted pot or box that holds the plant can be used to make a decoration statement. Some of the most popular plants used in interior decor are fiddle leaf fig tree, monstera, palm, snake plant, sweetheart plant, and so on.
Looking to move soon? Is your lease up soon? Renters should begin their search about 45-60 days prior to the end of their lease to maximize their options. 
Call or text our office today to be connected with one of our Leasing Agents!
773.404.9900